STORE LEGAL DOCUMENTS WITH PEACE OF MIND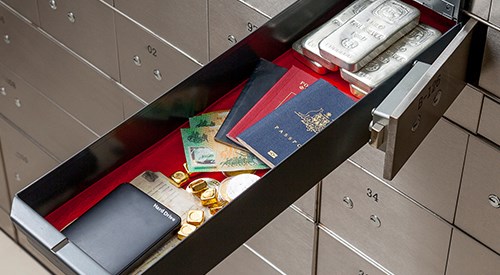 Legal documents take a considerable amount of effort to draw up, execute and are a costly and sometimes irreplaceable.
Items like deeds, wills, and other legal documents are best stored out of the home and in a secure centralised storage facility.
These items are not necessarily best stored in the home safe and in almost all cases best kept offsite.
Custodian vaults offers vaults from $25 per month that will store not only a large quantity of legal paperwork but other personal effects like passports, jewellery and bullion.
Custodian Vaults will offer complimentary insurance up to $10,000 and a nominal amount thereafter. Our insurance is underwritten by Lloyds of London, and is significantly cheaper than any level of house and contents insurance, providing peace of mind as well as in some cases necessary compliance.
Our larger safety deposit boxes hold document storage boxes perfectly and we have a number of top legal firms using our facility as a storage option for corporate documents as well as referring their clients to us as a secure option.
Legal documents are safe in our facility with insurance protecting them from fire, flood, theft and even natural disaster.