GLOBAL VAULTING SOLUTION WITH WILLIAM BUCK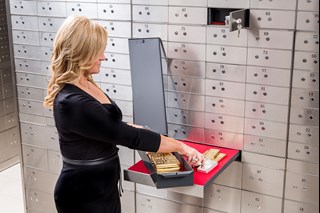 Custodian Vaults also offers a truly international private vaulting solution for safe storage of valuable assets, which can be utilised by clients no matter where they are located. 
This solution, which we have developed in conjunction with our trusted advisors William Buck, allows individuals to store their valuable assets (including bullion, cash, jewellery and important documents) in Sydney, Australia, even if they are located in another state, or indeed overseas.
Clients will be issued with documentation reflecting vault hire, insurance coverage (if requested), and all metal movements and metal valuations.
Through our logistics partners, Custodian Vaults can also arrange movement of physical metal from other parts of the world to Sydney, Australia, where it can be safely stored. We can also arrange bullion trading facilities through our sister company ABC Bullion, the largest private bullion dealer in Australia.
If you would like the safety and security that comes with storing your precious assets in a geopolitically safe jurisdiction, then this is the storage solution for you!

Who is William Buck?
William Buck is a leading firm of Chartered Accountants and advisors with offices across Australia and New Zealand. Established in 1895, we have over 90 directors and 500 professional staff, and are wholly owned and operated in Australia and New Zealand. 
"William Buck has been a trusted advisor to Custodian Vaults for many years. We are delighted to work with them to offer this service to our valued clients."
- Janie Simpson, Managing Director, Custodian Vaults
To find out more, please call Custodian Vaults on 1300 665 765 or +61 2 9011 7355
Global Vaulting Solutions Brochure (Sydney)
Global Vaulting Solutions Brochure (Perth)