How Safe are Safety Deposit Boxes?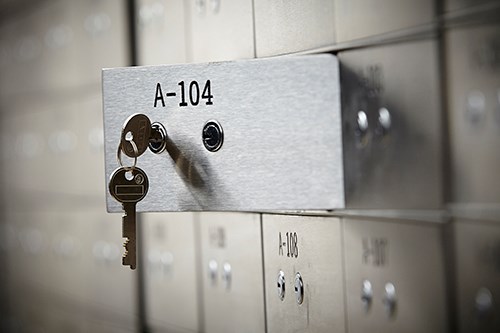 Safety deposit boxes have always been a great option for customers wanting to protect their valuable items or personal documentation. Most of us have possessions that are valuable or precious and these items need to be kept safe from damage or theft. Under the bed and in the sock drawer just doesn't cut it anymore as there has been an increase in violations and home invasions, while storing personal documents in the cloud makes it ripe for hackers to access your personal information. This is why safety deposit boxes are the best option. The safety deposit box ensures the complete protection of your valuables, including circumstances of theft and even natural disasters.
But what makes these boxes so safe? For one, they are located in a secure area that is more resistant to flooding, fire, hurricanes, earthquakes, tornadoes and other natural disasters than most houses. Banks and private vaults also boast more security than any home against burglary. Any priceless jewellery or heirlooms or important papers left lying around in a home can be easily removed, which is not the case if your items are stored in a safety deposit box.
Numerous safety precautions are used to protect safety deposit boxes at banks and private vaults. These institutions require customers to verify signatures, biometric access and identities of anybody who wants access to the boxes. In addition, handing your keys to somebody else or granting them the power of attorney to act on your behalf is not accepted unless they have been approved by the box holder in advance and customers must fill out the necessary paperwork to allow access to a second person. Another safety precaution private vaults take is to store these boxes in secure areas with alarms, high-security locks, 24/7 security presence and video cameras and most cases, an employee must accompany you to your safety deposit box.
Private vaults are the only way to ensure the safety and security of your valuables as they are specialists in this field with purpose built facilities. These independent, non-bank vaults offer safety deposit boxes with 24/7 security and more privacy than traditional banks. One thing you can depend on is that when it comes to the security of your valuable possessions, a safety deposit box is the best way to go.